Revolutionary Woman is a poem I wrote for Women's Month in Mexico, as I was there for the Second International Poetry Festival in 2019. I worked with a couple poets there on a Spanish translation found here:
Mujer revolucionaria

Ella  podría ser de  cualquier lugar.
Ojos negros, manos largas
Su rostro con el tono del barro horneado.
Su aroma es de tierra y zaatar.
Ella cierra el espacio entre
sus cejas
como una bola de aluminio
develando una sonrisa para los niños
que venden chicle en las esquinas
Y que juegan con juguetes rotos.
Ella no tiene sal ni azucar
y cuando llegan los vecinos a su puerta
ella llena los saleros hasta el borde
tampoco tiene papel
Pero ofrece sus restos
de limón, aceituna y Saro
Las colegialas jalan de su falda
y algun dia vestiran como ella
Aqui, es donde dice, conserven a sus halcones
hasta que se conviertan en desierto
y aprendas a  arrancar tu libertad como si fuese una bandera.
Esta no es una bandera
Pero es la sombra en la que escondes tus armas.
Las piedras apiladas
ahi en los pliegues,
a ella no le queda duda donde pertenece
ni le queda duda lo que es bueno o malo.
Esto significa que hara su parte,
Incluso en la oscuridad,
En el eclipse de su imagen.
Ni en su orgullo, ni en su enojo.
Ella camina por la senda estrecha
Entre dos tanques
Hasta que aplasta lilas y enredaderas
Convirtiendo su pequeño jardin en arena.
Esta misma senda angosta
es la que tenemos que recorrer,
En nuestro viaje.
Estoy segura que sabes cortar camino
Despues de muchos dias
Y asi
Ella vive por siempre
Y danzara esta noche y sabremos
Que vivira siempre en nosotros.
Este camino nos lleva
Asi que…
Si, bailare sobre esta grava en la noche
Bailare con su espiritu y su alma
Sus dientes brillaran como una luna plateada
Mi falda ondeara como la mueva
Y generará un pequeńo planeta sincronizado
con el viento.
Agradezco al dios que hay en mi
Y agradezco a este infierno
Que me mira construir estas venas
Para actuar en los escenarios
de la revolucion
Soy el actor
Que te dara licor, herramientas y ladrillos
Pero nos vamos a perder en todo, en todo lo que ves.
Pero ve!  Esta es la linea roja
Que provocara a nuestras colegialas algun dia
hasta que sepan en que lugar estuvieron.
Aqui es como venceremos a los bastardos
Y a los enemigos
Vivimos con el pulso de nuestros ancestros
Y en cada respirar. Seremos esta mujer.
Mi abuela palestina. Mi guia espiritual maya
Soy carne de su carne
Un pedazo que queda de su aliento
Bailando en esta senda estrecha
Entre la dignidad y la muerte…
Ese es el secreto
De mi inmortalidad.
Revolutionary Woman
She could be from almost anywhere.
Black eyes, large hands.
Her face the color of baked clay
She smells of earth and thyme.
She closes the space between
her brows
like a ball of foil
unpacks a smile only for the children
who sell gum on the corner
and who play with broken toys.
She has no salt or sugar
But when the neighbors arrive at her door
she fills their cups to the rim.
She has no paper
But offers her groves
of lemon, olive, sarow.
The school girls pull at her skirt,
One day they will wear a skirt like hers.
Here, she says, this is where you keep your falcons
Until you become a desert
Till you know how to yank your freedom from a flagpole
Here, this is not a skirt
it is a shadow in which to hide your arms.
Stones are piled
in the pleats, there
And she has no doubt where they belong
And she has no doubt about right and wrong.
This means she will play her part,
And she plays it in the dark,
in the eclipse of her image.
Not in pride or in anger.
She walks the narrow path
Between two tanks
as they crush lilies and archways
and turn her small garden to sand.
This same narrow path
Is the road
we all must travel.
I am sure you know the way, the shortcut after a long days work
And so
She lives forever
We will dance tonight and we will know
the woman who lives in us.
This road,
lead us upward.
So I
Yes, I will dance upon this gravel tonight.
I will dance her spirit and her soul.
My teeth will flash like a sliver of moon
My skirt will make circles as I twirl
and become a small planet in sync
with the wind.
I thank the god in me.
I thank the hell I look upon
That built me like a vessel
To play out scenarios
Of revolution
I am the actor
To bring you licorice, tools, and bricks
We may loose every, every everything
But, look!  There is a red chalk line, the picket
And it will provoke our school girls one day
They will know which side she was on
This is how we defeat the bastards
—and the enemy within.
We live with the pulse of our ancestors
In every breath. I will become this woman.
My Palestinian godmother. My Mayan spirit guide
I am flesh of her flesh.
A droplet of the dew of her breath.
Dancing this narrow path
Between dignity and death.
And that is the secret
Of my immortality.
Haiku for Rock Coffin Series, July 2020
Sacred Lands
You never know where
Little things have been laid down
Keeps flowers on you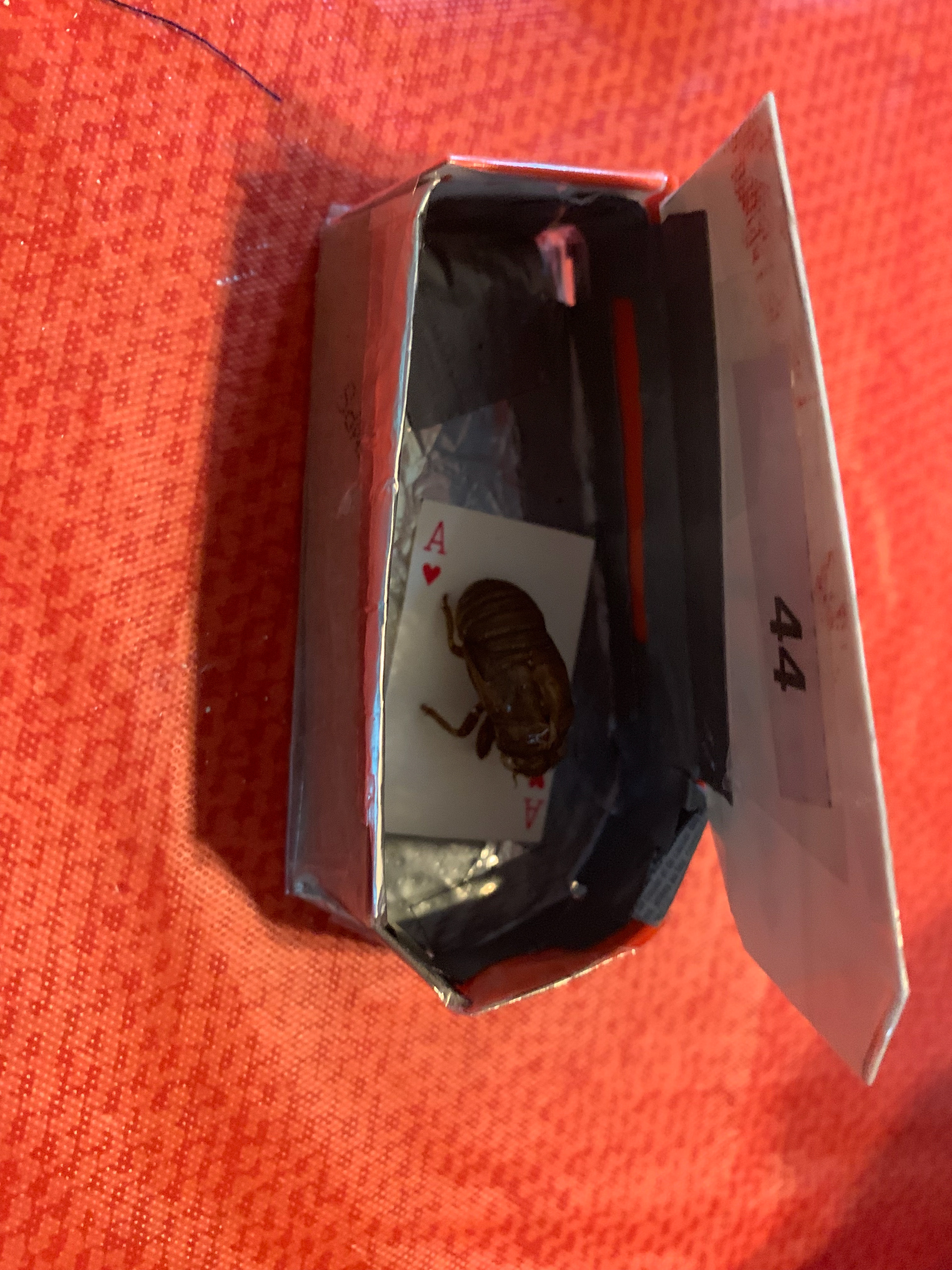 Daybook Class with Lucky Bucknell
Babi's Pain:
Babi's Episode on Saturday June 27th, 2020
2:44 pm
My cat Babirusa has had his second episode in two days since my mother and I returned from a small trip to the beach.  He howls nightmarishly with wide eyes and an open mouth that can only say so much. His paws reach and inadvertently scratch at a nearby wall. His hollow pupils look towards me—I think.  I can never be sure if it is me he sees.  I am very frightened and want to cry.
I call to my mother as he vocalizes his distress. She comes downstairs, but she misses the scene. I have to deal with this one on my own.  I am across the country from Brian, my ex who used to care equally about Babi.
I will take him to the vet if this persists.
3:10 pm
Babi continues to hide behind a mattress.
Babirusa is my fuzzy grey male cat. He is named after a species of deer pig called Babirusa whose horns drive into its own head, killing itself as it grows. How awful the fate of the Babirusa. But I liked the name, even with the tragedy.
Babi is usually very boyish and cuddly, twining his small but round body in circles at my legs. I wonder why I use the word boyish. I am deciding that it is an appropriate acknowledgment of his endearing personality.  He has a kitty cat-like expression of boyishness. It reminds me of a sweet toddler boy before any signals of insecurity. But anyway, he is not doing well right now and I don't like it.
3:27 pm
We often soften when we consider the lives of animals. They are these earthlings born with us.
I wonder how they would be if we were better, happier.
Maybe when  an alien looks down, and says, regarding the life on Earth, "look at those damn Earthlings. How tragic and sill their existence."
Deep down the aliens long to endure the experience, so that  they can  taste sautéed  onions or wear an organic body and somersault on those infamous  sandy planes where the belly of the waters become thin lips kissing the walking ground. "I believe they call it the beach."
Maybe Babi was abducted by aliens while we were away, and now  back in this 3d realm he misses the evolved other world, the less linguistic one. Or perhaps he simply is an organic creature walking through the world experiencing pain. Poor Earthlings, so much pain. Unidentified pain.
Daybook BYFA May 2020
How others see me and how I see myself.